N-03-0005
-
2017 Virginia Farm to Table Conference: "Cultivating Resilient Food Systems and Communities for the Common Wealth and Common Good"
43950
Description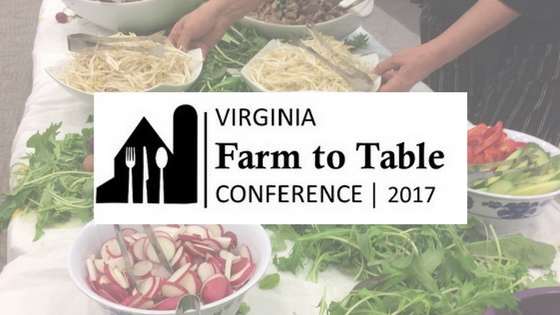 To learn about healthy farms, resilient communities and more food system topics from farmers, practitioners, and researchers, plan to attend the 2017 Virginia Farm to Table Conference. For the 6th year, Virginia Cooperative Extension, in partnership with USDA's Natural Resources Conservation Service, Virginia Beginning Farmer and Rancher Coalition, Virginia Food System Council, Virginia Sustainable Agriculture Research Education (SARE), Blue Ridge Community College, and community partners, presents the 2017 Virginia Farm to Table Conference December 6 – 7, 2017 at Blue Ridge Community College's Plecker Workforce Development Center, Weyers Cave, VA. The theme for this year's conference is 'Cultivating Resilient Food Systems and Communities for the Common Wealth and Common Good.'
The conference will feature engaging and inspirational speakers with broad experience and knowledge of food, farming and pressing social, environmental, and health issues. Confirmed speakers and panelists include: Diane Imrie, Director of Nutrition Services, The University of Vermont Medical Center, Jack and Anne Lazor of Butterworks Farm, Elnian Gilbert of ZingTrain and Zingerman's Community of Businesses, Shorlette Ammons of North Carolina State University's Center for Environmental Farming Systems, Dr. Tim Woods of the University of Kentucky, Andrew Mefferd of Growing for Market and author of the Greenhouse and Hoophouse Handbook, Dr. Robin 'Buz' Kloot of the University of South Carolina's Arnold School of Public Health, and other great panelists.
In addition to plenary and keynote speakers, there will be concurrent sessions where producers and practitioners share their local and regional expertise on topics such as sustaining farms, families and communities; soil health and water quality; organic grain production; market readiness and finding your leverage and niche, radical hospitality and service, integrative health and wellness; farm to school, university, and hospital; and improving food equity and access.
This year's event features an off-site networking event and reception at Valley Pike Farm Market on Wednesday evening.
Who Should Attend?
The 2017 Virginia Farm to Table Conference will be of interest to producers, buyers, restaurateurs, food entrepreneurs, community and agricultural development officials, nutrition and dining service directors, dietitians, policymakers, educators, farm-to-school advocates, technical service providers, and food system stakeholders.
WALK-IN REGISTRATIONS WILL BE ACCEPTED
(Checks are preferred - Please make payable to Treasurer, Virginia Tech)
Please be sure to add both Wednesday and Thursday to your cart if you plan to attend both days of the conference.
If you would like to attend the FREE Networking Reception and Local Food Expo on Wednesday evening, be sure to add that section to your cart as well.