N-03-0001-001
-
Charlottesville- Teaching Trees
31615
Description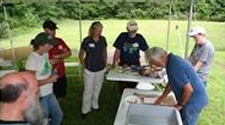 Training for teachers in forest ecology, management, and utilization with supporting Project Learning Tree® lessons
Who should attend
This 2-day professional development event will introduce middle and high school science teachers to local pine and hardwood forestry, sustainable forest management, and forest products with hands-on field trips. Instruction totals 14 hours; see your school administrator for recertification credit.
What to Expect
Both days will largely be held in the field unless severe weather prohibits. We will visit a sawmill, multiple forests and potentially an active logging job. Instructors will discuss what is happening at each site within the context of sustainability.
Field-trip transportation is provided.
Participants will receive several Project Learning Tree® (PLT) modules (correlated to Va. SOL) and related teaching supplies.
What others are saying
Awesome program and the people that presented are the reason. The passion and knowledge are greatly appreciated.
This was an amazing experience that far exceeded my expectations. Thank you!
Assistance
Limited overnight lodging assistance is available for teachers more than 1 hour from Charlottesville. Contact Ellen Powell for information (434) 220-9083
Sponsored by:
Skyline Chapter of Society of American Foresters, with financial and in-kind support from Va. Cooperative Extension, Va. Dept. of Forestry, WestRock, Ballyshannon Fund, Dowdy's Forest & Land Management, Old Bear Enterprises, Greif Packaging, and Chips, Inc.
With a grant from the Virginia Forestry Educational Foundation