ENTO-IIL-02
-
Spotted Lanternfly Training
210837
Description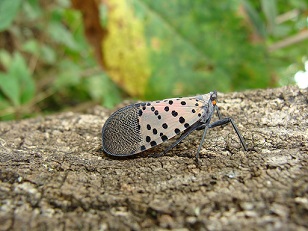 The spotted lanternfly (SLF), Lycorma delicatula, is now found in the United States. SLF was first detected in Frederick County, Virginia , in January 2018. This invasive insect is a potentially very serious pest of grapes, peaches, hops, and a variety of other valuable crops. SLF has also been reported on a large range of ornamentals around the home and landscape. In addition, it becomes an objectionable nuisance pest when it aggregates in large numbers around homes and buildings. Recognition of SLF is key to slowing its spread across the state.
This self-paced online course is intended to help individuals recognize SLF in all its life stages and understand the best practices to help limit the spread of SLF within Virginia and among other states. The course is designed primarily for employees of businesses, but the material covered here is valuable information for homeowners, agencies, and other organizations as well. This course is presented by Virginia Cooperative Extension and the Virginia Department of Agriculture and Consumer Services .
Some states have set quarantines for SLF and are requesting a permit or certificate from those states with populations of SLF in order to move materials, equipment, and goods in, out, and through infested areas. States with quarantines in place may require a Certificate of Completion from Virginia that will be issued upon the successful completion of this online training course. It is in the best interest of Virginia-based companies doing business with other states to have a designated employee take this course and have a Certificate of Completion available to show that his or her business is compliant with SLF quarantines set by other states. In addition, the designated employee who holds a Certificate of Completion is expected to train fellow employees on how to recognize SLF and how to limit its spread into other areas.
Outline
This course is provided in a series of four self-paced modules. Each module contains a video presentation and a required quiz at the end to test your knowledge of the presented material. A score of at least 80% (answer 4 out of 5 questions correct) is required to successfully complete the module.
Modules:
Module 1: Identifying the Spotted Lanternfly
Module 2: Recognizing Spotted Lanternfly Egg Masses
Module 3: Phenology and Host Range of Spotted Lanternfly in Virginia
Module 4: Regulatory Information
Presenters:
Virginia Cooperative Extension
Eric Day, Manager, Insect Identification Lab

Theresa Dellinger, Diagnostician in the Insect Identification Lab

Doug Pfeiffer, Professor

Mark Sutphin, Extension Agent, Horticulture
Virginia Department of Agriculture and Consumer Services
Office of Plant Industry Services
David Gianino, State Plant Regulatory Official

Tina MacIntyre, Cooperative Agricultural Pest Survey & Nursery Program Coordinator
Learner Outcomes
Individuals who successfully complete Spotted Lanternfly Training with quiz scores of 80% or higher will receive documentation verifying that he or she has passed the course via email. A Pest Alert for SLF will also be emailed for future reference.
SLF Permits
To obtain a permit, send the Spotted Lanternfly Permit Application Form and a copy of your Training Credential to spottedlanternfly@vdacs.virginia.gov or mail to Virginia Department of Agriculture and Consumer Services, PO Box 1163, Richmond, VA 23218-0526. Your SLF permit will be sent in two to three weeks.
Once you receive your SLF Permit, the designated representative must train fellow employees. Downloadable training materials and fact sheets, are available on the Virginia Cooperative Extension website and the VDACS website. Your permit can be reproduced and provided only to trained personnel from your company.
Contact Tina MacIntyre if you have questions about obtaining SFL permits.
Tina MacIntyre, Cooperative Agricultural Pest Survey & Nursery Program Coordinator
Virginia Department of Agriculture & Consumer Services
Office of Plant Industry Services


tina.macintyre@vdacs.virginia.gov


804-786-3515
Notes
Contact Eric Day if you have questions about this course and the issued Training Credential:
Eric Day, Manager, Insect Identification Lab
Department of Entomology
College of Agriculture and Life Sciences
Virginia Tech
ericday@vt.edu
540-231-4899
Applies Towards the Following Certificates
Enroll Now - Select a section to enroll in
Required fields are indicated by .