C-01-16
-
Central District 4-H Volunteer Leaders' Conference
177535
Description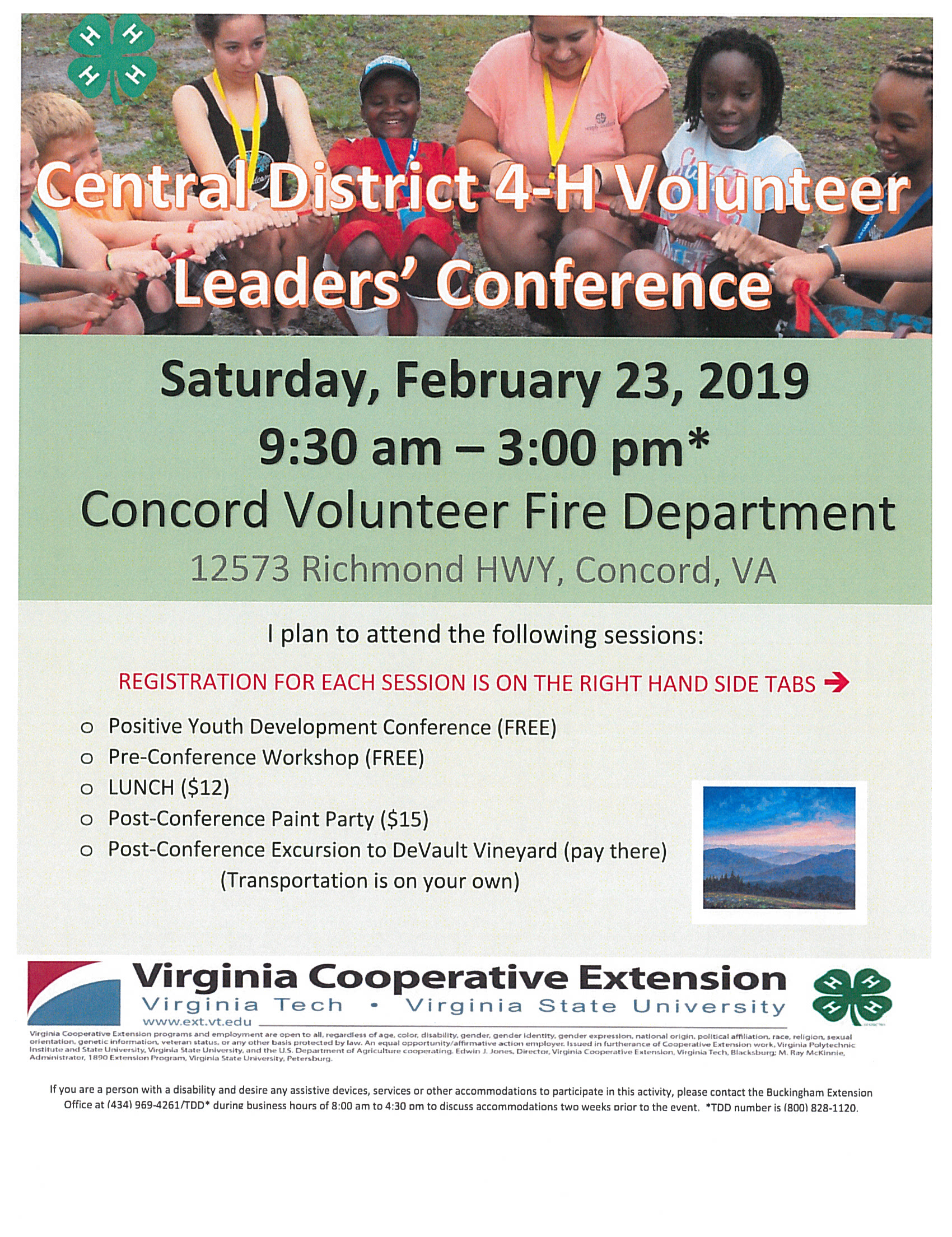 Deadline to register is Wednesday, February 20th.
No refunds after February 15th.
Agenda
8:30 – 10:00 Registration
9:00 – 10:00 Pre-Conference Workshop – "WOW, 4-H Does That?" (Campbell County Volunteers)
This workshop is geared toward new 4-H parents and volunteers as well as veterans of 4-H who would like to learn more about the many opportunities in 4-H such as types of delivery modes, 4-H All-Stars, 4-H Ambassadors, and much more
10:00 – 10:15 Welcome (Amy Johnson, CDAA4-HVL President)
10:15 – 11:00 Positive Youth Development (presenter to be determined)
Learn about the Five C's model of positive youth development and the resulting 6th C.
11:00 – 12:00 Essential Elements of 4-H (Robbie Morrison, 4-H Extension Agent, Campbell County)
Belonging, generosity, independence, and mastery are the Essential Elements of 4-H. Discover what this means and how you can incorporate these into your 4-H club meetings, after-school programs, camps, etc.
12:00 – 1:00 Lunch and Networking
1:00 - 1:45 Targeting Life Skills (Daniel Hale, 4-H Extension Agent, City of Danville)
Learn about intentionality in helping 4-H youth to develop life skills as they delve deeper into the planned activities and projects.
1:45 – 2:45 Youth Program Quality (Ruth Wallace, 4-H Extension Agent, Buckingham County)
Find out more about the pyramid of youth program quality and how you can help the youth with whom you work have meaningful, quality experiences in 4-H.
2:45 - 3:00 Closing (Brenda Stratton, CDAA4-HVL President-Elect)
3:00 - 5:00 Optional Painting Party (pre-registration required)
3:00 - 6:00 Optional Excursion to DeVault Vineyard (transportation not provided)
Required fields are indicated by .