Description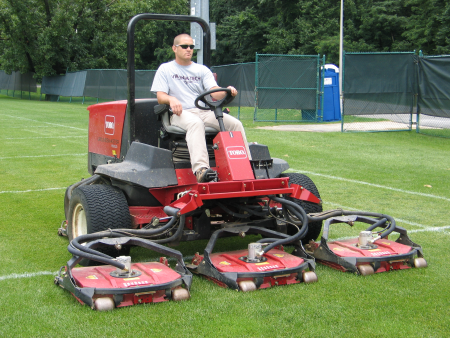 The Virginia Tech School of Turfgrass Ecology and Management provides comprehensive training in all aspects of warm and cool-season turfgrass selection, establishment, and maintenance. This school is designed to serve as a comprehensive introduction to turfgrass management for those without formal education in turfgrass science, or as a refresher course for those wishing to review their knowledge and learn of the latest tools, products, and strategies in managing a quality, environmentally responsible turfgrass system. As an introductory course, it is suitable for members of all segments of the turfgrass industry (golf, sports, lawn care, sod, or sales). Faculty and staff with advanced degrees in the sciences of Agronomy, Pathology, Weed Science, and Entomology lead all training; particular emphasis in the training is given to pest and nutrient management programs, and strategies to protect water quality. A comprehensive training manual is provided to all participants, and weekly quizzes will be administered to assess participant understanding of the material and questions to raise with the instructors. After successful completion of all quizzes, participants will have the opportunity to take the Virginia Cooperative Extension Certified Turfgrass Professional exams.
Outline
The training will be offered online via Canvas and Zoom.
Course Schedule:
November 7, 2021 – February 28, 2022
---
All recorded course training presentations, written training materials, and pre-training quizzes will go live on Canvas the week of Nov. 7th. Students will meet with the VT Turf Team instructors for live Question and Answer periods weekly on Wednesday evenings from 7-9 p.m. ET by way of Zoom (except for the week of Christmas when there will be no class, and schedule adjustments to Tuesday nights instead of Wednesday for the week of Thanksgiving and the week before Christmas). All students are asked to take a pre-training quiz prior to their review of that week's materials in order to assess their current level of understanding of a subject, and a post-training quiz after the weekly live Q/A session. Upon successful completion and passing of all the training quizzes, the participants will have an opportunity to sit for the Virginia Cooperative Extension Certified Turfgrass Professional exams at the end of February 2022.
Learner Outcomes
Students will receive comprehensive instruction in all areas of environmentally responsible management of both cool-season and warm-season turfgrasses. They will have the opportunity to engage with all members of the Virginia Tech Turfgrass Team during their training and establish professional contacts that will be available to them in the future. Students that pass all weekly post-training quizzes and complete all School surveys will have the opportunity to sit for the Virginia Cooperative Extension Certified Turfgrass Professional exams, a testing series that covers Turfgrass and Pest Identification and Management, Best Management Practices to Protect Water Quality, General Turfgrass Management Knowledge, Turfgrass Mathematics, and the attainment of the status of Certified Fertilizer Applicator.
Notes
Registration Deadline:
November 26, 2021
Payment Methods:
Credit Cards Only
Refund Policy:
Refunds are not available for this program
*There is a 50% discount available for VCE Agents. Please contact Mike Goatley at goatley@vt.edu or 540-231-2951 to obtain the discount code needed during checkout.
**We are pleased to offer a discount for enrollment to all military veterans and first responders. Please contact Mike Goatley at goatley@vt.edu to receive the discount code.
---
What's Next?
Virginia Cooperative Extension utilizes Canvas to offer this online program. After registering for this program, you will receive a registration confirmation email with detailed instructions for accessing the Canvas platform. If you don't see a confirmation email, be sure to check your spam or junk folder. You can also access the Canvas instructions here.
---
Special Offer:
Registration in this course entitles you to take our Certified Fertilizer Applicator Training for free! Simply visit CFA Registration and use the discount code that will be provided to you in your confirmation email when you complete your registration for the VT School of Turfgrass Ecology and Management.
---
For more information about this program, please contact Mike Goatley at goatley@vt.edu or 540-231-2951.
Applies Towards the Following Certificates
Enroll Now - Select a section to enroll in
Required fields are indicated by .