Description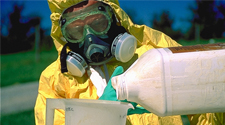 Recertification Training for Commercial Pesticide Applicators and Registered Technicians is offered annually by the Lynchburg Extension office. This recertification includes Agents and Specialists from Virginia Cooperative Extension. The 2020 Commercial Pesticide Recertification Training will be offered on two days (March 10 & March 12) at the University of Lynchburg (formerly Lynchburg College). For further information please contact the VCE Lynchburg office at (434) 455-3740.
Outline
Discussion and courses will include:
Legal updates
Environmental Impacts of Pesticide Use
Controlling Common Right-of-Way Pests
Aquatic Pests in Ponds and Lakes
General Pest Control
Common Turf Pests
Ornamental Pests and Their Control
Calibration and Safety
Pest and Landscape Tree Management
Required fields are indicated by .