Description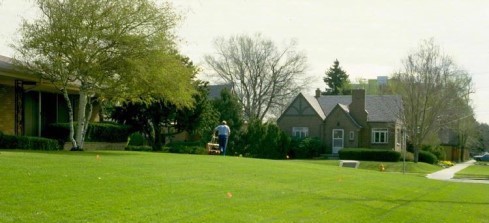 This online course covers basic soil science, soil fertility, organic management of nutrients, and turf and horticultural nutrient needs. The course highlights information from the Urban Nutrient Handbook and the Virginia Nutrient Management Standards and Criteria 2014 and is intended to help individuals in preparing for the Virginia Nutrient Management Certification exam in Turf and Landscape. Please visit the Department of Conservation website for more information about the Nutrient Management program.
This course is presented by Virginia Cooperative Extension and the Virginia Department of Conservation and Recreation.
Outline
Modules
This course is provided in a series of self-paced modules that correspond to chapters in the Urban Nutrient Management Handbook. Each module contains one or more video presentations, a reading assignment, links to additional resources, and a required quiz to test your knowledge of the material presented. The titles and presenters for each module are as follows:
Chapter 1. The Objectives of Turf and Landscape Nutrient Management
Chapter 2. General Soil Science Principles
Chapter 3. Managing Urban Soils
Chapter 4. Basic Soil Fertility
Chapter 5. Soil Sampling and Nutrient Testing
Chapter 6. Mid-Atlantic Turfgrasses and Their Management
Chapter 7. The Ornamental Landscape
Chapter 8. Fertilizer and Lime Sources for Turf and Landscapes
Chapter 9. Organic and Inorganic Soil Amendments
Chapter 11. Soil-Water Budgets and Irrigation Sources and Timing
Chapter 12. Principles of Stormwater Management
Learner Outcomes
In taking this course, it is understood that the results of the completion of this course and registration information will be shared with the Virginia Department of Conservation and Recreation's Nutrient Management Program staff.
This course satisfies the education requirement to sit for DCR Certified Nutrient Management Planner exam in the Turf and Landscape category.
Notes
Registration Deadline: Dec 1, 2019
Cost: $125
Payment methods: Credit cards only
Refund Policy: No refunds available
Instructor Contact Information:
Nick Yakish, Urban Nutrient Management Coordinator
Virginia Department of Conservation and Recreation
600 E. Main St., 24th Floor
Richmond, VA 23219
Office: 804-371-7489
Cell: 804-389-5439
nicholas.yakish@dcr.virginia.gov
---
Accessing the Course:
Virginia Tech utilizes the Canvas learning management system for online courses.
You will receive an email from Virginia Tech Guest Management Service (iam@vt.edu) with the subject line Virginia Tech Guest Account Invitation. It is important that you watch for this email as it has a temporary link for you to activate your Virginia Tech guest account and set your password. You must active your VT guest account within 7 days of receiving the email or the invitation will expire.
If you do not receive the email from iam@vt.edu, you should contact 4Help. To reach 4Help, go to https://4help.vt.edu, or call (540) 231-4357.
Within 6 hours of activating your VT guest account, you will receive an email from Virginia Tech Canvas (notifications@instructure.com) with the subject line Course Enrollment. This email indicates you can now log into Canvas and begin the course.
Sign in to Canvas and access the course at https://profdev-lms.tlos.vt.edu/courses/315. Your username is the email address used to create your Virginia Tech guest account. The password is the one you set when creating the account.
Applies Towards the Following Certificates
Required fields are indicated by .